Welcome to The Barn
Visit the Barn Garden Centre at Peterborough or Oundle and you will be assured of a warm welcome and an abundance of wonderful plants for your garden and home.

We pride ourselves on the quality of our plants and our comprehensive range of gardening products including:-
Fertilisers, weedkillers, lawncare and compost
Tools, watering and gardening accessories
Pots, planters and garden ornaments
Seeds and Bulbs
Garden furniture, solar lighting and bbq's
Wild bird care
Gloves & footware
Cards, books and great gift ideas
Hard landscaping, gravels and trellis
As well as all this, at our Peterborough branch you will discover a comprehensive aquatic department, with tropical, cold water and pond fish.

The Barn at Peterborough also has a lovely Coffee shop providing excellent coffee, cakes and light meals. It also boasts to serving the best scones in the area!

So if youre looking for a plant, a bit of advice or just a coffee and slice of cake, we look forward to welcoming you to The Barn.
Feed your birds
Keep the birds well fed at this time of year as they're just starting to build nests and think about raising fledglings. It's a tough time of year for them, with little natural food around, so anything you can supply will be welcome: put out peanuts in mesh feeders and sunflower seeds for bluetits and finches like siskins, and fat balls for starlings, thrushes and woodpeckers.
Plant of the Week: Roses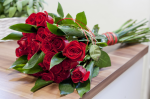 'A rose by any other name would smell as sweet', said the Bard, and whatever name they go by roses undeniably take the prize for the most delicious scent in the garden. Perfume adds yet another dimension to a flower already blessed with perfect petals in a kaleidoscope of romantic colours.
Since it's prime rose-planting time right now you've got the perfect excuse to add to your collection. From palest pink climber 'Madame Alfred Carriere' to swoon-inducing Bourbon rose 'Madame Isaac Pereire', there are dozens of roses which major on scent – so fill your garden with sweet, spicy perfume this summer!